The challenge for Week 40 of Makeovemonday was to improve upon an original data visualisation published by the Financial Times looking at British economic growth since the Brexit Vote.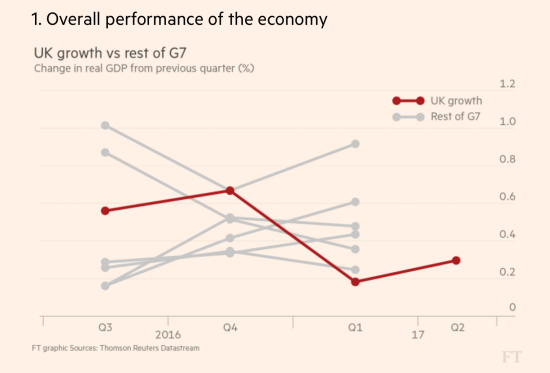 What did I like?
Clear sub-title
Feint gridlines work well
Coloured line chart allows the UK to stand out compared to the rest of the G7 countries
Nice clean design
What could be improved?
The main title is ambiguous in terms of the type of growth
UK could be colour coded the same as the chart
The legend detracts attention
It is unclear what the y-axis is showing as there is no axis label
The dates on the x-axis are inconsistently labelled
There is no explicit story to guide the reader
There is data missing for the other G7 countries for the latest quarter
 My goals:
Colour code the main title so as to remove the need for a legend
Highlight Britain in context of the G7 countries
Include a main title that focusses my analysis by asking a question
Expand the field of analysis to identify longer term trends
Tell a compelling story to engage the reader: that whilst real GDP growth has declined since the Brexit Vote, it could either be part of an annual cycle or because of the fall in the rank of growth in the G7; part of a longer term decline.
 Benefits of this approach:
Line charts are an appropriate display for long term trends
The trend for Britain pops out from the crowd by highlighting it and greying out the other countries
By placing the analysis along the timeline, it makes the chart easy to read from left to right
 Challenges of this approach:
To tell the story in small text boxes, which align to the timeline and answer the main question set in the title.
The interactive version is available on Tableau Public.